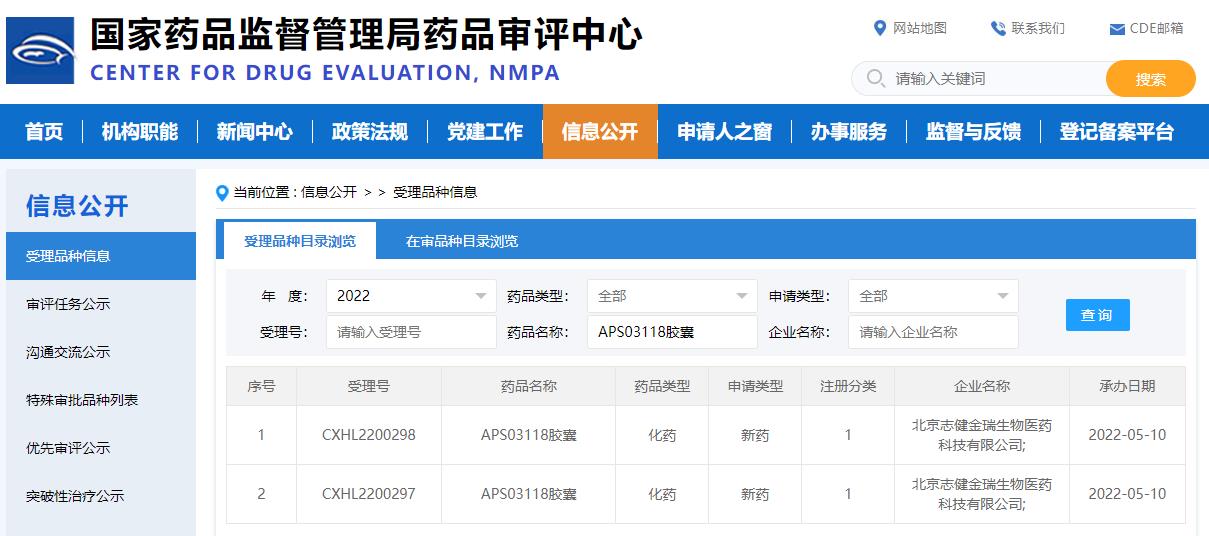 On May 10, 2022, the IND application of the next-generation RET inhibitor APS03118, an innovative drug independently developed by Applied Pharmaceutical Science, was accepted by the Center for Drug Evaluation (CDE). According to the acceptance announcement, the drug name is APS03118 capsule, and the acceptance number is CXHL2200297 and CXHL2200298.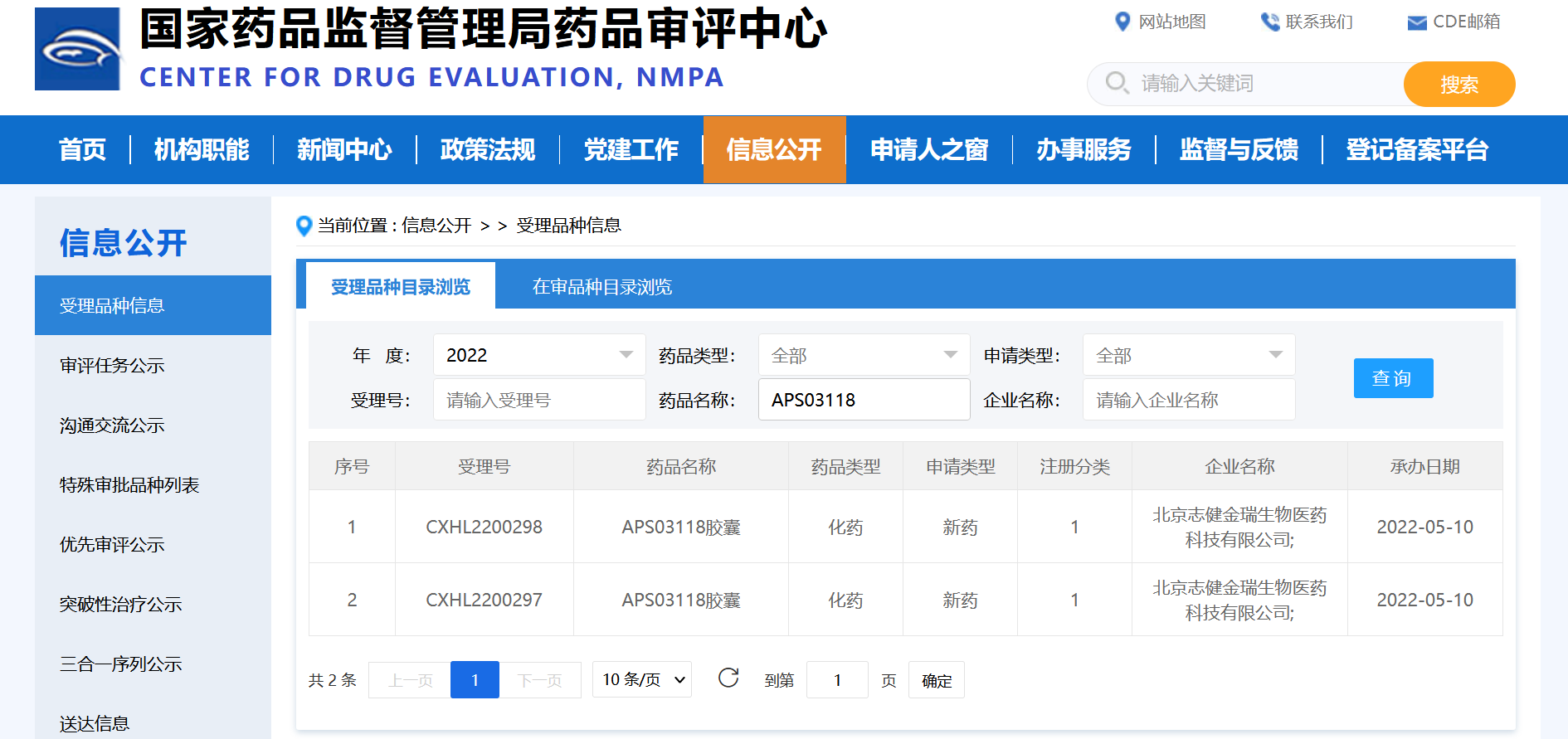 Image source: CED official website
APS03118 is an innovative drug developed by APS for unlimited cancers with global independent intellectual property rights. Potential indications include non-small cell lung cancer(NSCLC), thyroid cancer, breast cancer, colorectal cancer and other metastatic solid tumors with RET aberrances.
The APS03118 IND application was officially accepted mainly based on preclinical research data: APS03118 is the highly selective and potent next-generation RET inhibitor. APS03118 is potent against wild-type (WT) and a board range of mutant RET in comparison with selpercatinib and pralsetinib in the enzymatic and cell-based assays, especially the SFMs RET G810 R/S/C, gate keeper RET V804M/L/E, roof RET L730I/M and hinge RET Y806 mutations that induced the resistance to RET inhibitors. This will provide additional treatment options for patients who are resistant to first-generation selective RET inhibitors. In the brain metastatic tumor model, APS03118 also showed a significant anti-tumor effect, which means that the drug may have therapeutic advantages for patients with brain metastases.
Investigational New Drug (IND) application of APS03118 was approved by FDA early this year, and APS03118 was also granted the Fast Track Designation by FDA.The acceptance of this IND application in China can promote the latest domestic cancer therapies to synchronize with the world,effectively overcome the resistance caused by the first-generation selective RET inhibitors, and bring hope for more cancer patients to survive.
Applied Pharmaceutical Science, Inc. is a biopharmaceutical high-tech company focused on innovative cancer precision therapy and tumor-driven gene drug development through in-depth exploration of cancer-causing driver genes, protein structure and function, and synthetic medicinal chemistry. APS aims to explore the life sciences, innovate precision cancer therapy, and seek new hope for cancer patients worldwide with breakthrough tumor precision therapies.
Please contact us for further communication about company and products:
info@apspharm.com